Sociologist as Public Intellectual: Some Reflections
Helen Jefferson Lenskyj, the author of Sexual Diversity and the Sochi 2014 Olympics talks about the role of the academics as public intellectuals.
Since the 1986 publication of my first book, Out of Bounds: Women, Sport and Sexuality (Women's Press), my research has mainly focused on social issues that touch the lives of individuals and groups within the broad context of sport and physical activity. Since 2000, I've written five books that present a radical/critical examination of the Olympic industry.
As public intellectuals, academics who tackle social problems such as the damaging impacts of the Olympics, seek to uncover their origins and the systems of oppression that support them. We make recommendations for social change and work with communities to challenge those in power, sometimes successfully, sometimes not. Our targets are often 'sacred cows' – the Olympics or organized religion, for example (and there are overlaps) – and our findings often demonstrate that 'the emperor has no clothes.'
Since university faculty no longer have genuine academic freedom, even in western countries, we face ongoing barriers in getting this kind of research funded and disseminated – few, if any, invitations to give conference keynotes, for example. At worst, we are treated as persona non grata by fellow academics. In fact, I found that progressive journalists were more likely than some university colleagues to engage seriously and respectfully with my research, including the 2014 publication, Sexual Diversity and the Sochi 2014 Olympics: No More Rainbows (Palgrave Pivot).
The International Olympic Committee's 2007 decision to give Russia the 2014 Olympics prompted the same range of responses, from the well-justified outrage to the naïve magical thinking, that had followed its 2001 selection of Beijing as the host of the 2008 Olympics. Boosters routinely invoked the miracles wrought by sport – its alleged power to stop wars, prevent teen pregnancy and unite the world in perfect harmony, as Coca-Cola so nicely put it. Critics had more nuanced, and often more cynical arguments.
Giving Beijing the Olympics 'furthers the perception that the People's Republic of China – with its sprawling gulag system and often murderous repression – is a normal country, if with some peculiar characteristics…' as a National Review commentator expressed it. A Washington Post columnist concluded, 'If Beijing is marred by corruption, burning with commercial fever and eager to have a chance at self-promotion, maybe that makes it the perfect place for what the Olympics have become.' Both statements apply equally well to the IOC's selection of Sochi.
In Sexual Diversity and the Sochi 2014 Olympics, I concluded that the IOC and Putin's Russia are well matched in a number of significant ways. Common features include undemocratic governance, lack of transparency and accountability, fraudulent voting processes, hypocrisy and moral bankruptcy in leadership, homophobia and lesbian/gay invisibility, and reliance on religious or pseudo-religious rhetoric to justify 'sport-as-special' propaganda.
I finished writing the final draft on December 20, 2013, and, sadly, many of my predictions have been supported in the last two months, and as has my claim that the IOC and Putin's Russia deserve each other. Consider, for example:
Putin's token gesture of freeing political prisoners, including Greenpeace protesters and Pussy Riot members, in order to generate western approvalt item.
His deployment of Cossack security personnel who attacked Pussy Riot members with whips during a Sochi protest, a move that would satisfy his conservative, Orthodox base.
His so-called 'welcome' of lesbian and gay athletes, while in the same speech equating male homosexuality with pedophilia.
The IOC's repeated abdication of any moral responsibility despite their self-proclaimed status as the 'moral authority for world sport'.
Continued futile attempts to shame the IOC into action on Russia's anti-gay laws by invoking the 'values' of the Olympic charter.
IOC president Thomas Bach's false claim that the IOC has no power over governments.
Putin's and Olympic officials' exhortation to keep politics out of sport, a self-serving position that exploits the popularity of international sporting competition and its numbing effects on political consciousness.
A marked decline within western media in reporting anti-Olympic or anti-Putin protest for the duration of the Olympics.
More media attention on stray dogs than on the arrests of protesters.
Publications
(2014) Sexual Diversity and the Sochi 2014 Olympics: No More Rainbows.
(2013) Gender Politics and the Olympic Industry.
(2008) Olympic Industry Resistance: Challenging Olympic Power and Propaganda.
(2003) Out on the Field: Gender, Sport and Sexualities.
(2002) The Best Ever Olympics: Social Impacts of Sydney 2000.
(2000) Inside the Olympic Industry: Power, Politics and Activism.
(1986) Out of Bounds: Women, Sport and Sexuality.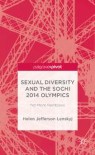 Helen Jefferson Lenskyj was Professor of Sociology and Equity Studies in Education at the University of Toronto, Canada from 1986 until her retirement in 2007. She has been involved in a wide range of community activist groups since the 1970s. Helen's personal website can be found at www.helenlenskyj.ca.